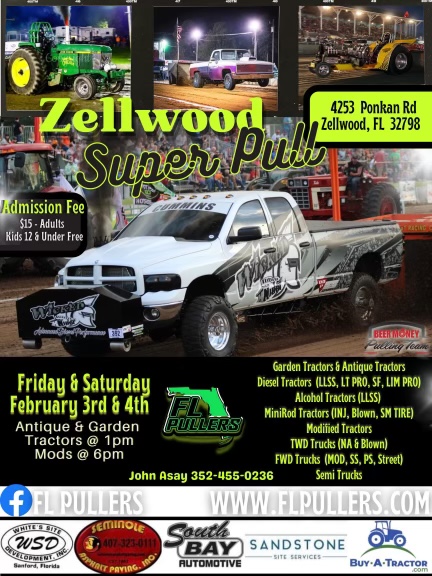 We are a local Antique Tractor Club with one of best tracks in Florida!
Our story starts 40 plus years ago with 5 friends and a love for tractor pulling. They became the first officers for FL Pullers. These founding officers worked countless nights and weekends to make this club what it is today. We have grown from 5 members to over 75 and have the best track in Florida, we continue to run this club with the same values those 5-friends had from the beginning. This tradition has been passed down from father to sons and grandsons and we hope it will continue for many years to come.
Our pulling classes start with petal tractor pulls for the little kids, then youth garden tractors, next step would be stock garden tractors, then modified garden tractors, next is the antique tractors, this would include tractors from the 1930's up to the late 1950's. we run 3 classes for the Antiques from stock to 6mph to open class. The next group would be the faster speeds, starting with super mod garden tractors, mini rods, trucks and smoker tractors. So as you can see we have something for everyone that likes pulling or wants to get started in pulling. We also have several of the members that bring their RV to the pulls and makes a weekend of it.